Track bug and issue reports.
Keep everyone in the loop.
Capture, record, manage and resolve bugs and issues from users in an agile development cycle to ship bug-free products. Create a single source of truth of all bug and issue types to deliver value to your customers with Rapidr's bug and issue tracking tool.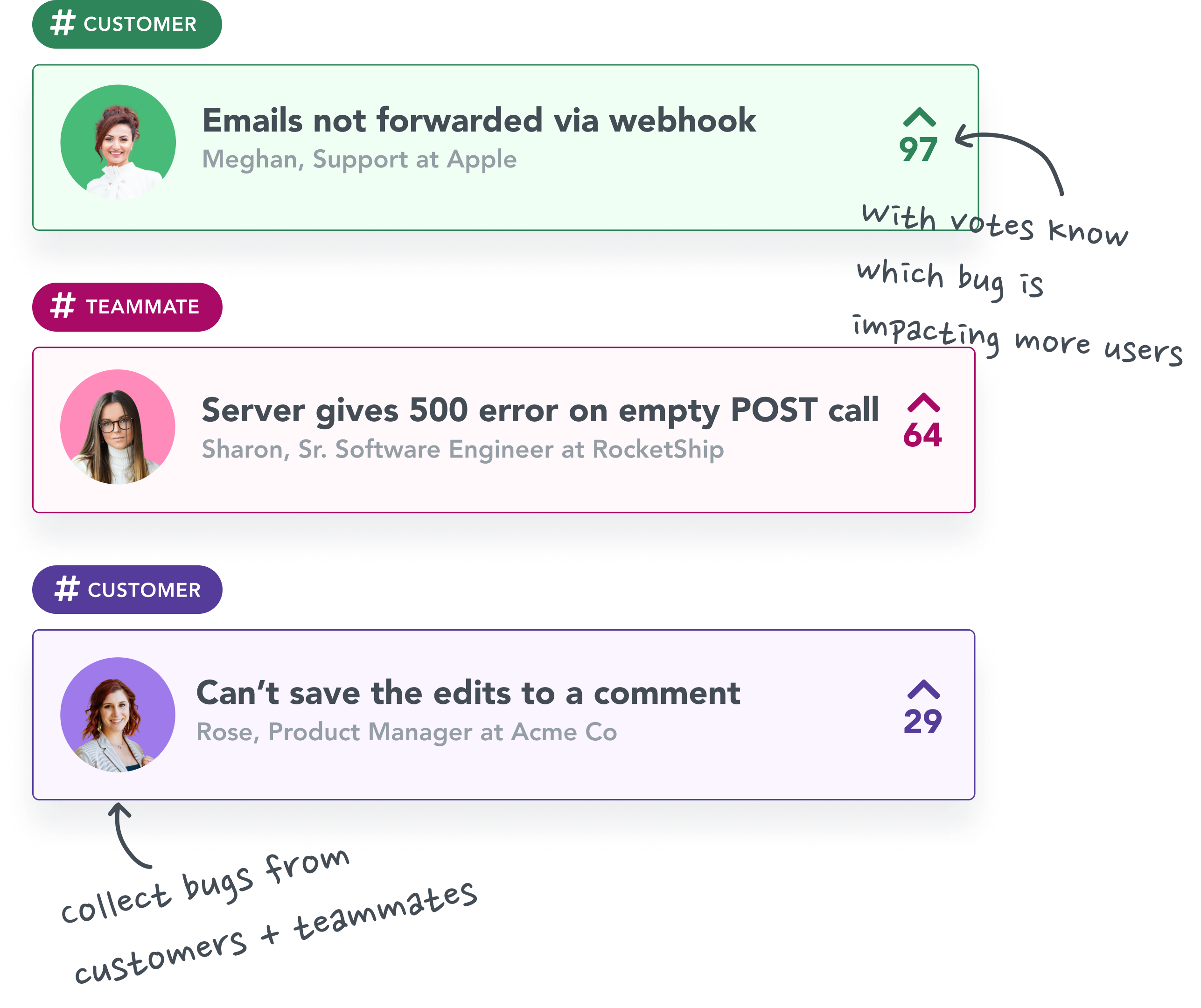 TRUSTED BY COMPANIES BUILDING CUSTOMER-CENTRIC PRODUCTS



Bug and Issue Tracking Software for Product Teams and SaaS companies
Deliver bug-free products with Rapidr's fast and scalable bug tracking and management system. It helps teams capture and prioritize bugs, discuss and vote on them, progress them in the roadmap, resolve and notify users to close the feedback loop. Create custom branded bug reporting boards for issue management internally in your team during agile development and externally for users after the release.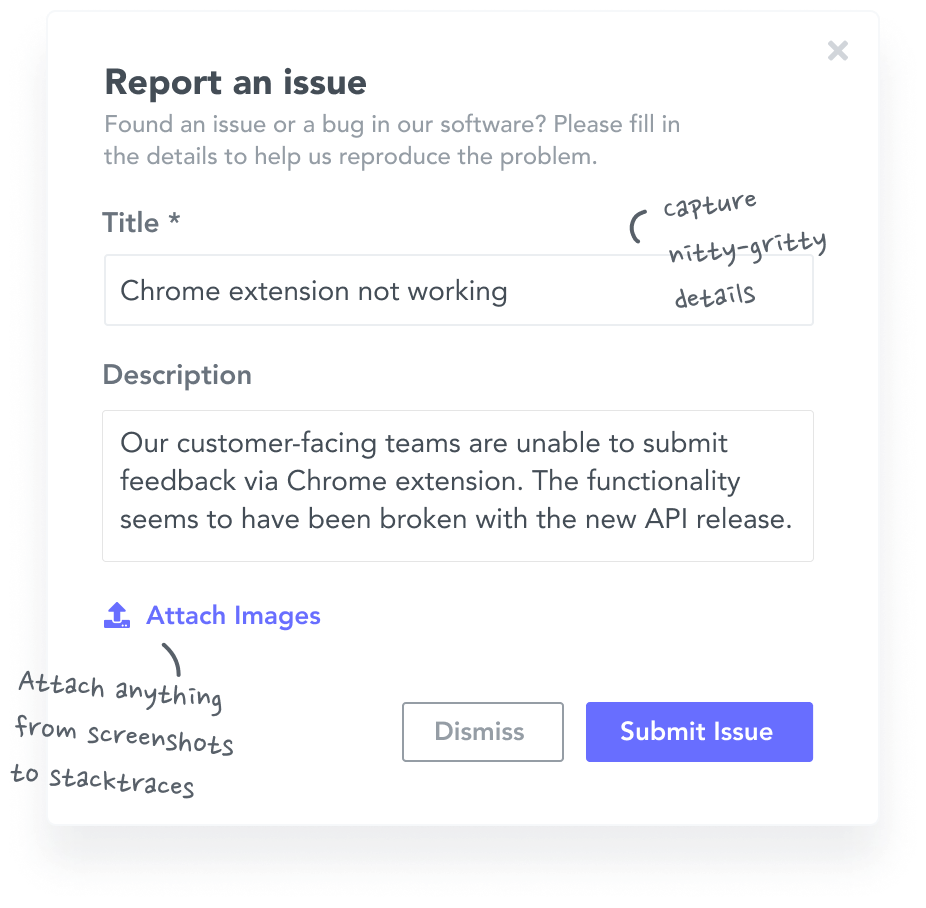 CAPTURE BUG & ISSUE REPORTS FROM CUSTOMERS + TEAMMATES
Track bug and issue reports from your customers and teammates at one centralized place
Rapidr's simple bug tracking tool can be integrated with your app quickly and allows users to log a bug instantaneously with all relevant details, including descriptions, severity level, screenshots, etc. No more messed-up spreadsheets, emails, or Trello boards to manage issues reported by customers.
Capture the bugs reported by your customers and collaborate with your team to take feedback-driven decisions. Create a single issue management process across the team.
Quickly organize, evaluate and advance the critical bugs by understanding their urgency with comments and upvotes in a dedicated bug reporting feedback board.
Prioritize critical and urgent bugs with confidence
Use votes and comments within a bug reporting board to prioritize bugs. Bring your user accounts with Rapid's SSO to understand who is creating issues. Keep everyone on the same page and ensure that the team is first working on the highest priority items.
Evaluate, sort, and filter bugs based on the level of importance, urgency, and the team's capacity to resolve them.
Comprehensive search designed to help you find, record, and track bugs in your software by title, description, or status. Prioritize severe bugs with features like the vote on behalf and confidential comments.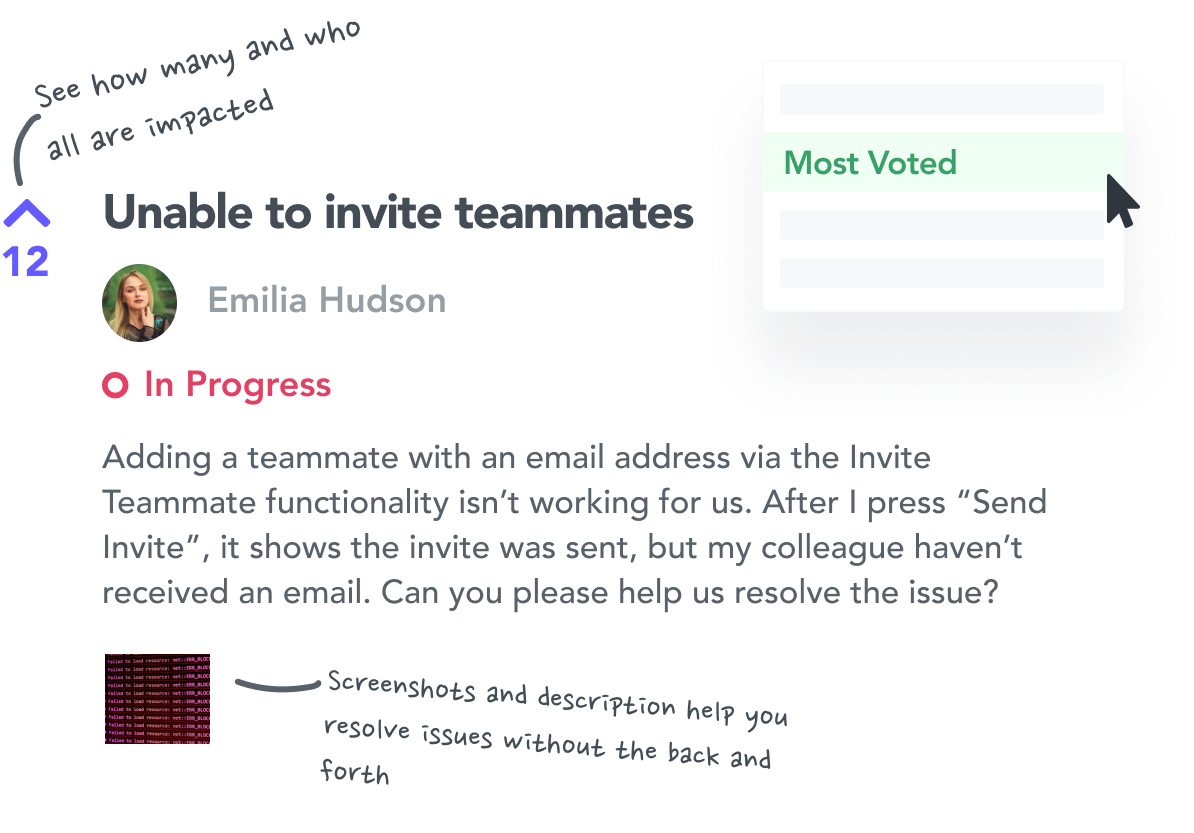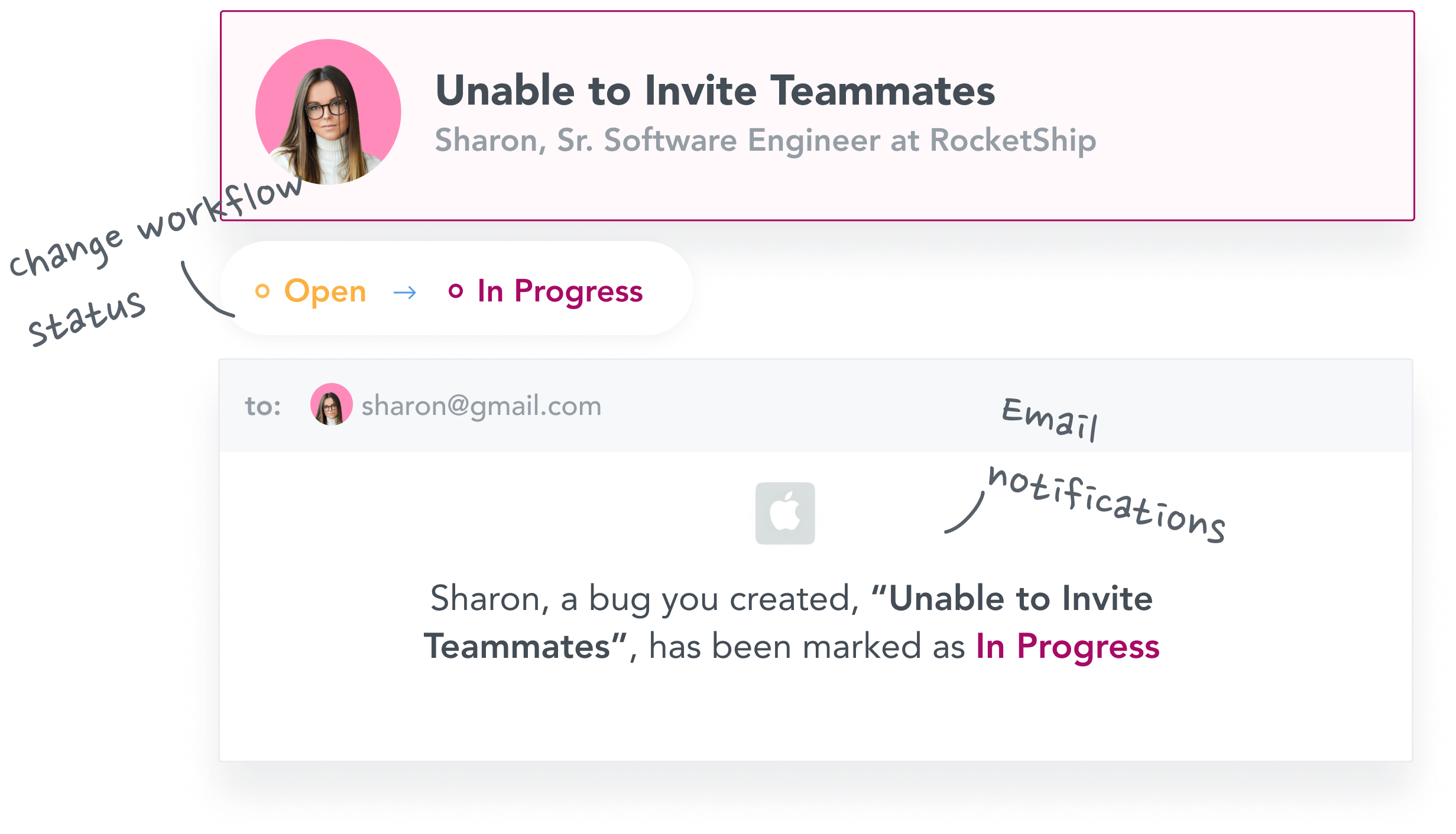 NOTIFY WHEN YOU SQUASH THE BUG / ISSUE
You squash the bug. We handle the notifications.
Automatically update users whenever a bug's status is changed. Communicate and notify the correct person responsible when an urgent bug is prioritized. Respond to user-reported bug reports quickly.
Use custom status to create suitable statuses for different boards that match your product's language, such as 'resolved' for bug reports in our defect tracking system.
Notifications in Rapidr use @mentions to update someone automatically when a status change occurs. Managing and resolving issues efficiently and effectively with Rapidr's issue management system.
PROMOTE TRANSPARENCY WITH PRODUCT ROADMAP
Transparent product development with public roadmaps
Streamline the feedback process with a visual public roadmap. Update everyone on your product decisions and prioritized issues via product roadmap. Track bugs from the backlog with the public roadmap.
Communicate your product strategy visually. Get everyone on the same page. Work on highest priority issues.
Achieve customer loyalty and support by presenting the product vision with an easy-to-use product roadmap. Bug tracking at your fingertips.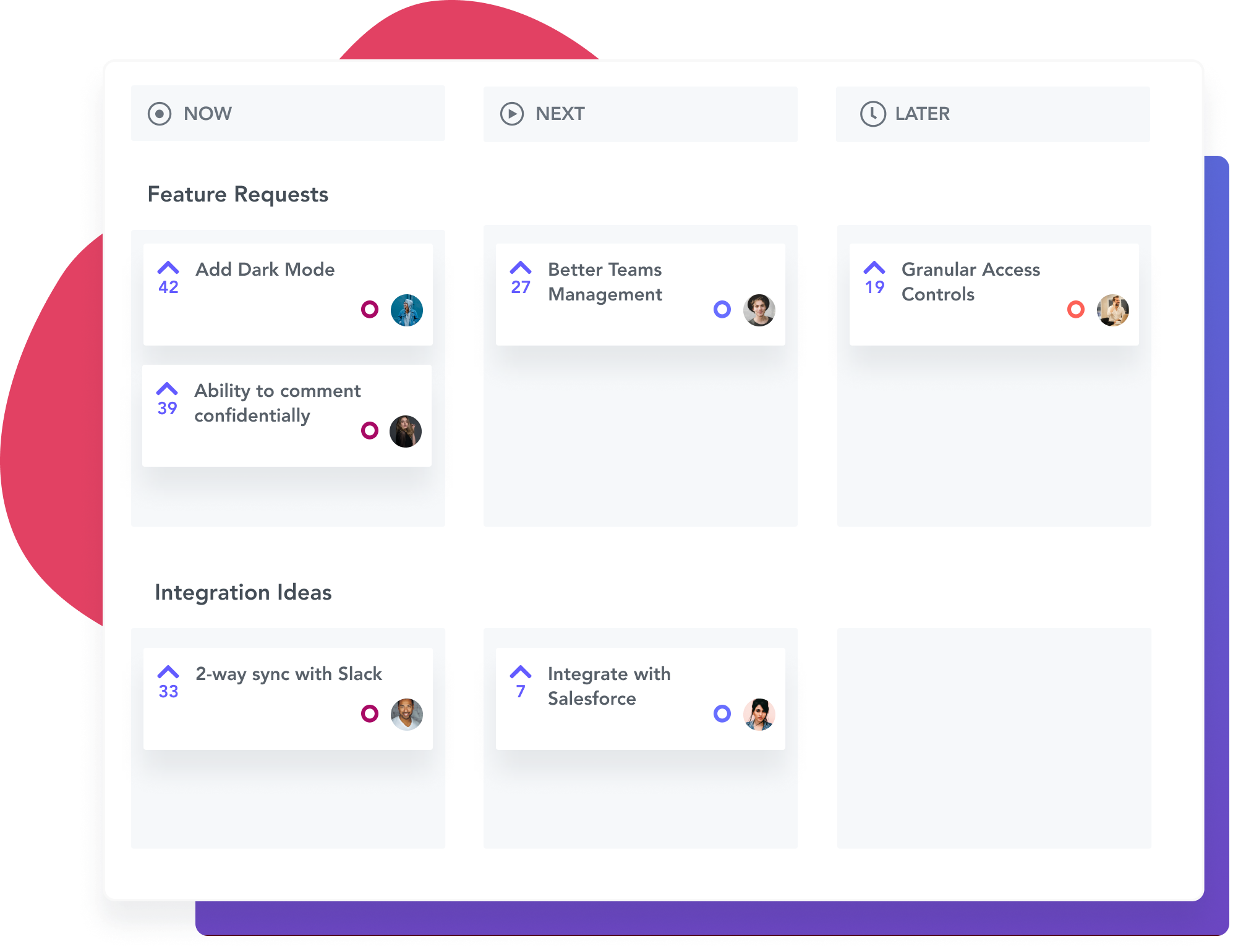 Everything you need to take better product decisions
Bug Tracking Portal
Create unlimited boards to collect ideas and feature requests in our feature request management system.
Votes & Comments
Vote on ideas and engage with users using comments. Prioritize effectively by quickly identifying popular feedback.
Custom Status
Create different statuses when tracking different types of feedback for each board, for example, "Resolved" when tracking bug reports.
Single Sign-On
Seamlessly authenticate and identify your customers and know precisely who contributes to your feedback board.
Collaborate
Invite unlimited product managers and teammates to contribute, manage, and prioritize feedback & product ideas.
Customize Portal
Customize your customer portal to keep your design consistent with your brand personality.
Custom Domain
Setup Rapidr to run on your domain effortlessly. We provide and manage SSL for you too.
Confidential comments
Discuss feedback with your teammates using confidential comments in Rapidr without losing context.
Vote on behalf
Empower your customer-facing teams to vote on behalf of a customer to capture their interest.
Supporting you as you grow your product
Set up and start collecting ideas in minutes
Get started within minutes with our self-serve and easy onboarding. Rapidr is built to get you up & running in a matter of minutes.
Dedicated and high-class support provided
A dedicated support team to help you out whenever you need us and a fully equipped help desk with various "how-to" articles.
Free 14-day trial and affordable pricing
Start with our free 14-day trial to explore all of Rapidr's features with no restrictions. Then, once you're ready to commit, our affordable plans will greet you.
FREQUENTLY ASKED QUESTIONS
Have questions? We've got answers.
What is a Bug/Issue Report?
A bug report is a feedback reported by customers or teammates that consists of information about an error in software and ways to document, report, and fix those errors or problems in software or website. It can be anything ranging from a small button text error to entirely functionality showing errors. See Rapidr's bug tracking board.
A bug tracking system or defect tracking system is a software application that keeps track of reported software bugs in software development projects. It may be regarded as a type of issue-tracking system. Many bug tracking systems allow end-users to enter bug reports directly and some are only used internally in a company during development.
How does a Bug Tracking Software work?
A bug tracking or issue management software allows you to report, document, store, manage, assign and keep track of all bugs from customers, teammates, and other stakeholders, in an organized and consolidated way. As a result, it helps to make informed product decisions and ship bug-free softwares.
How to use Rapidr for Issue Management?
Bugs are detected by the development team during the product testing phase and are detected and reported by end-users after release. Therefore, the team needs to evaluate and prioritize which issues to resolve first, which can be done with Rapidr's Issue Management System.
The basic steps include capturing, reviewing, prioritizing bugs and issues, tracking and boosting them to the roadmap to keep the customer informed, and notifying them once it is resolved, closing the feedback loop in Rapidr. Respond to bugs quickly and ship better products with us.
Feature Requests vs Bugs?
A bug is a failure to conform to reasonable expectations based on requirements and norms. A feature is a unit of functionality that is requested as a requirement by a user.